wodPop3 ActiveX component
Pop3 ActiveX (SSL, S/MIME) client, Pop3 component
---
Pop3 client component for easy access to remote mailbox on the server. Set of methods and properties allow you to download headers and full message bodies, save attachments, get HTML and PlainText parts. It supports UNICODE so header fields are readable at all times.
---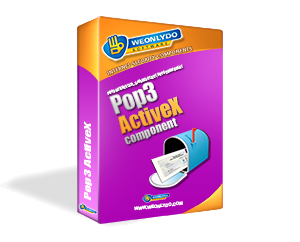 ---
---
Pricing
per developer
Single developer license
USD 99.00
Single developer license
(includes full source code)
USD 259.00
Developer team 3+
(at least 3 licenses, 15% discount)
USD 252.45
License includes one year of free updates and unlimited lifetime technical support. Each developer must have his own design-time license.
---
General information
wodPop3 is a Client ActiveX Component that is used to access mailbox on the server using POP3 protocol. Mail found on the server can be retrieved locally (complete messages, or only headers) and/or can be deleted from the server. Full set of commands for standard operations is supported.
---
Overview
Using wodPop3 you can easily get information about contents of your mailbox. For each message found on the server, wodPop3 will create new Message object in Messages collection, allowing you easily to check the message size and UID (this information is known immediately on connection), and determine if you will download the message or not. For slow connections there is also ability to download only headers.

You can just let wodPop3 download all the email for you - it supports method to download all messages and to download all headers - allowing you to open messages after you disconnect from the server - no need to waste time on open connection.

wodPop3 also have strong support for message parsing - you will be able to access every aspect of downloaded message directly from wodPop3 - without requirements for 3rd party libraries. This includes direct access to HTML and Plaintext parts, From and To fields, Subject etc..
---
Features
Supports both blocking and non-blocking operations
Can Automatically retrieve all messages from the server using one command
Can Retrieve only headers
Provides powerful set of properties that relate to messages - no need for external parsers
Events for all major operations
Supports UNICODE in message headers
Royalty free licensing
Ease of use